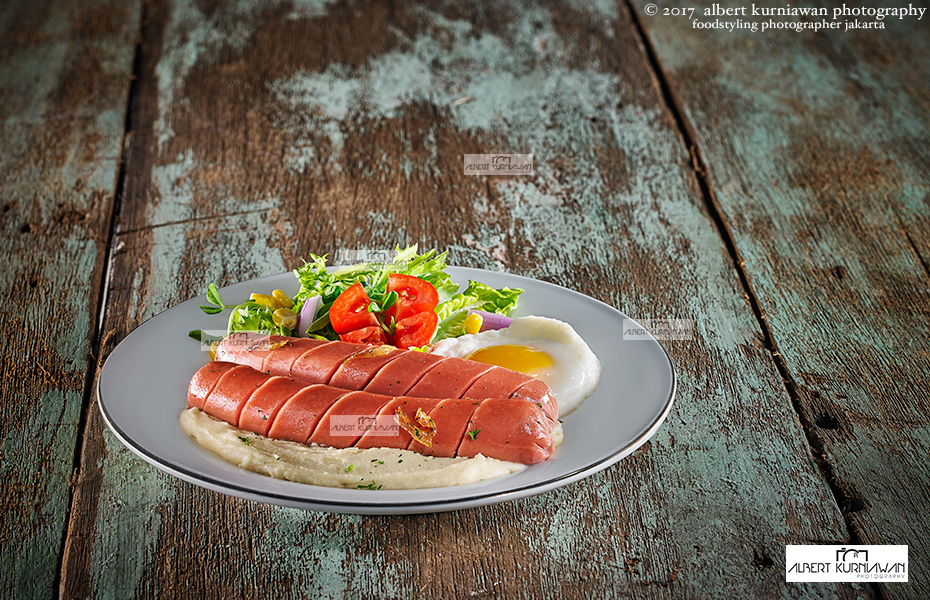 Food Photographer Jakarta for Abby's Sausage
AKP, food photographer jakarta dengan kreasi terbarunya untuk Sosis Abby's. Kreasi photography ini dibuat bebas dengan acuan hanya menggunakan sosis Abby's. Sosisnya harus terlihat jelas itu saja briefnya. Albert menyikapi dengan membuat karya seni masakan dengan berbagai kreasi bahan. Semua bahan tentu saja cocok untuk dinikmati bersama dengan sosis. Kreasi ini diabadikan dengan kamera medium format Hasselblad dan Phase One Digital back. Lampu studio professional Broncolor dan visatec.
Kreasi food styling yang menojolkan produk
Mash potato dengan sunny setup dan salad merupakan sarapan pagi yang lengkap. Food photography yang diciptakan untuk menginspirasi para pencinta sosis. Apapun kreasi dari food photography untuk Abby's ini, tetap saja sosisnya sebagai bintang utamanya. Bagaimana dengan sosi dipadukan dengan potato wedges, green peas, sweet corn dan grill tomato dengan saus berdasarkan tomat? bisa untuk lunch? atau break fast?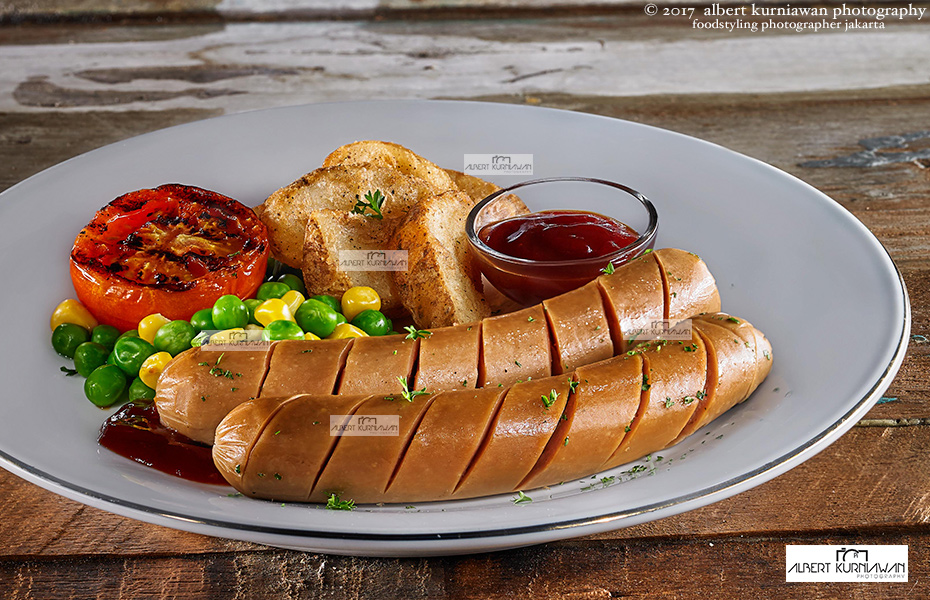 AKP, food photographer Jakarta dengan kreasi untuk menginspirasi
Ketika membuat kreasi ini, Albert Kurniawan memikirkan untuk membuat presentasi sosis dalam meal yang memberikan ide dan cara penyajian. Ditujukan untuk para home cook (ibu atau bapak) yang diwaktu akhir pekan memasak untuk keluarga. Saturday Brunch Moment (SBM) bersama keluarga. Memang resepnya tidak diminta dibuatkan oleh pihak produsen tetapi semua dibuat sederhana. Tetap saja sosis menjadi komponen terutama.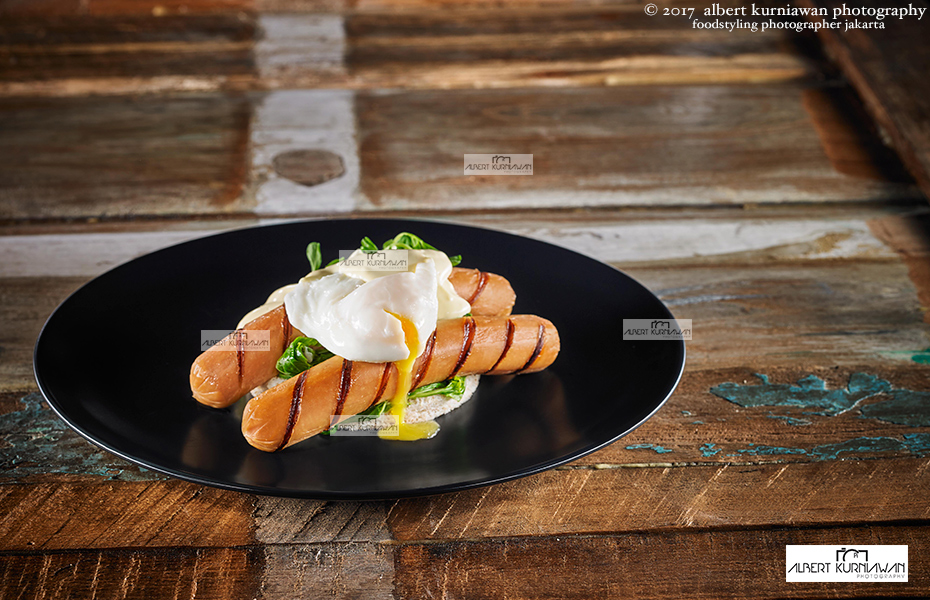 Saturday Brunch Moment (SBM) dengan keluarga Anda
Sausage Egg benedict yang siap disajikan untuk breakfast SBM bersama keluarga tercinta. "Semua ngak pakai ribet" roti tawar gandum dipotong melingkar, bayam rebus diatasnya dan taruh dua sosis grill dan poach egg, kemudian taruh hollandaise diatas telur. Lihat foto lebih dekatnya dibawah ini.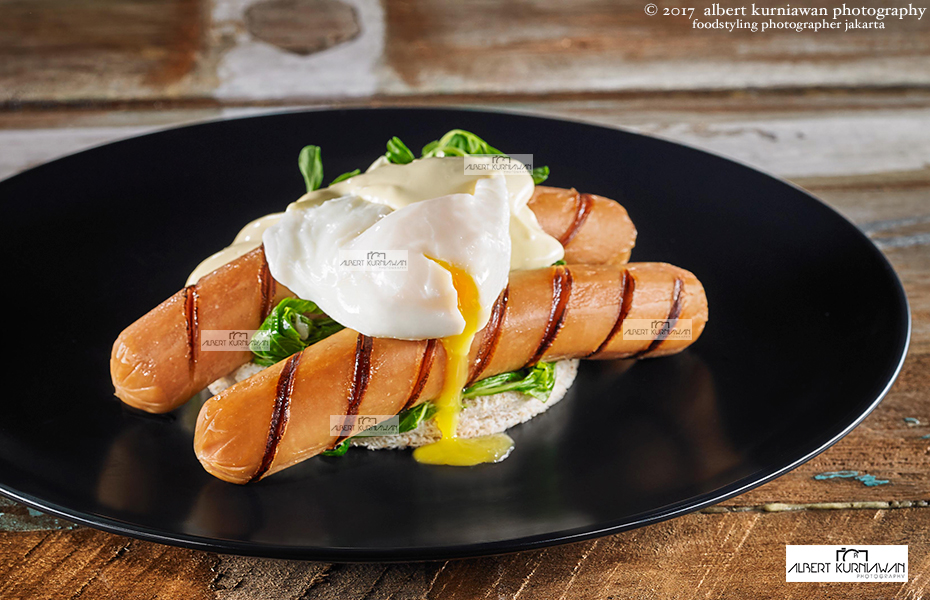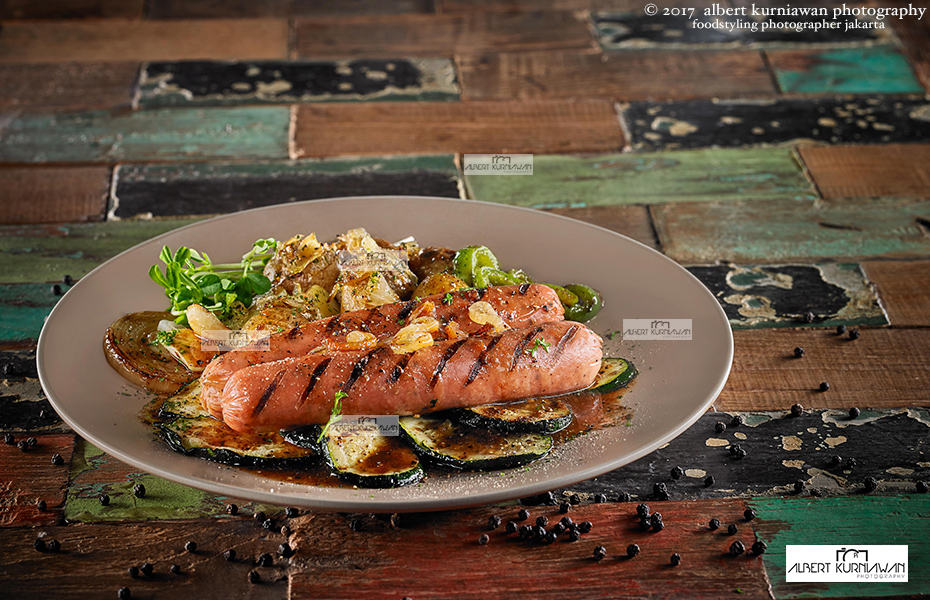 Sausage in black pepper sauce with egg plant, grilled onion and saute mini potato. Kreasi ini diambil dari beberapa restoran terkemuka di jakarta, biasanya dengan steak. Kami ganti dengan sosis untuk membuat menu ini menjadi SBM.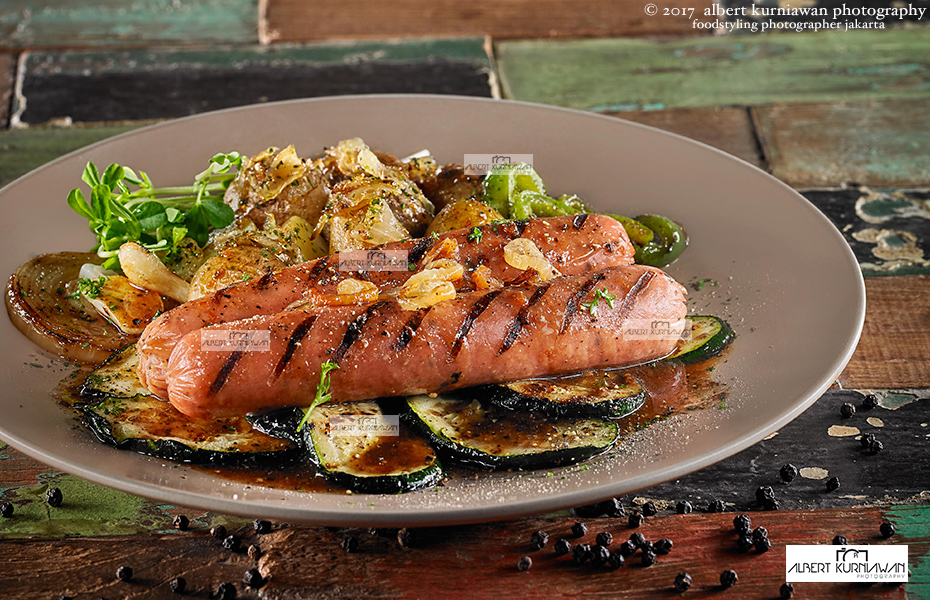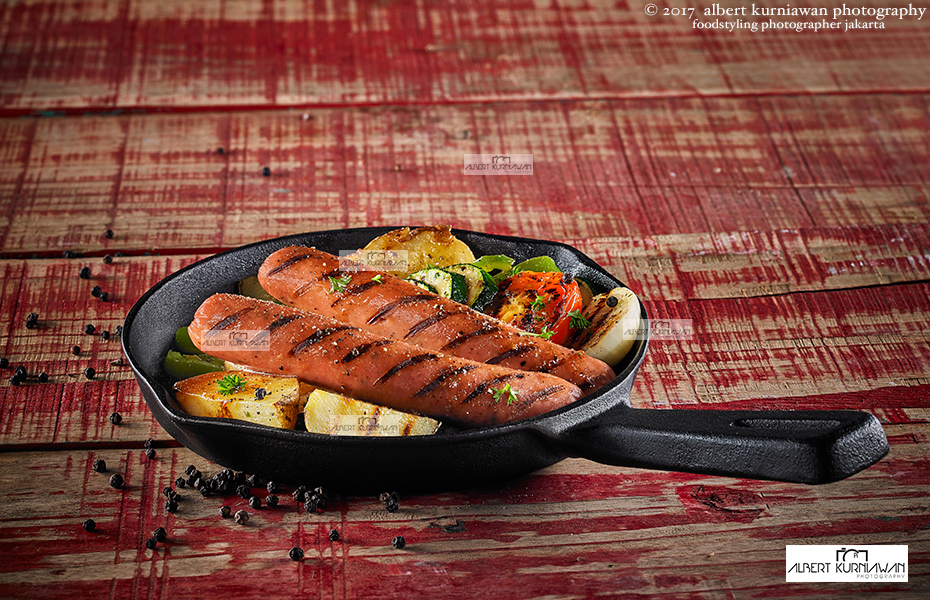 Grilled sausage with grilled zucchini,tomato, onion and grilled potato wedges, grilled paprika too. Yang ini untuk SBM yang agak hearty. Simple, Easy to make and of course delicious. Triknya kentangnya harus direbus dahulu sebelum di grill. Tidak perlu pakai skillet (iron cast pan), food photography memang perlu membuatnya lebih menarik dengan props yang menggelitik citra rasa, baca mengapa harus foto dengan AKP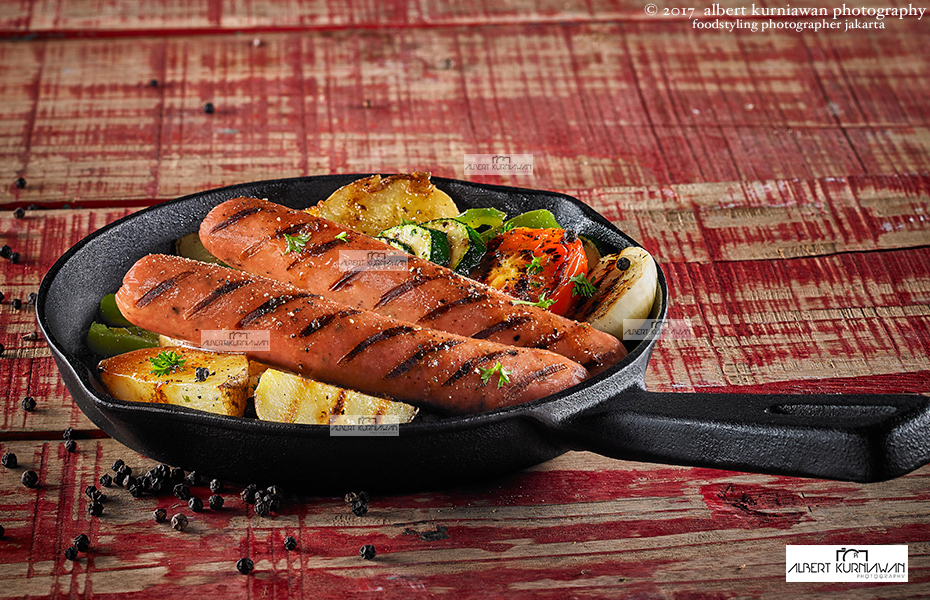 Kreasi yang terakhir ini menjadi penutup dalam inspiring food photography for Abby's Sausage. Salad with 2 google eeg, hashbrown and cheese sausage. Cocok untuk anda yang suka memanjakan keluarga di hari sabtu pagi dengan memasak masakan rumahan. Semoga menginspirasi.